Paranormal Explained CD
Paranormal Explained CD
This riveting audio CD exposes the potentially grave consequences of naively experimenting with the realms of the supernatural.
Caterina puts into perspective very familiar yet still misunderstood concepts such as paranormal or psychic interference and reveals some very disturbing realities. Having actively confronted the negative side of the spiritual realm in her work, Caterina draws on her experiences to tell you more about exorcising and clearing both people and places from paranormal interference.
As you listen to the reading, you will develop a greater understanding of the supernatural, new age technologies and even the teenage 'emo' culture.

Includes 2 x CDs
RRP AUD$14.95 plus postage
---
Related Items
Ghost Whisperer and Paranormal Explained CD (includes 2 x CDs)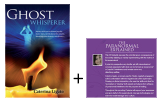 RRP AUD$39.90
BUY NOW FOR ONLY AUD$31.95
plus postage (Save $7.95!)
Complete Book & CDs Set
Ghost Whisperer plus Paranormal Explained
and God Consciousness Meditation CDs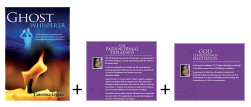 RRP AUD$49.85
BUY NOW FOR ONLY AUD$39.95
plus postage (Save $9.90!)